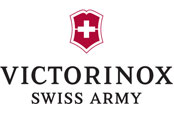 Advanced Filter Options
Your search found 0 results. Please try again. You can call us at 800.338.6799 for assistance.
Feel free to browse through over 10,000 products using the drop down menus above, type in a KeyWord in the search field or click to go directly to our NewsBlog, New Items Listing, or our Specials page.
---
About

The Company

In 1897 the Original Swiss Army Knife was created in the small village of Ibach, Switzerland. Since that time, Victorinox has become well-known in more than 100 countries for precision, quality, functionality and versatility. This century old heritage has been extended to Swiss Army Watches, which reflect the ingenious design and outstanding durability Victorinox has come to stand for over the years. Uncompromising craftsmanship makes these watches worthy to carry the "cross and shield" emblem that symbolizes the legend of Victorinox and the Swiss Army Brand.

Whether you're going around the corner or around the globe, classically styled Swiss Army watches will make sure that you're equipped for life's adventures. No matter what those adventures might be.

Our Heritage

The VICTORINOX "Swiss Army Knife" is over 100 Years Old. This useful pocket Multi-Tool was legally registered on June 12, 1897. Over 34,000 of these pocket tools with the distinctive Swiss cross leave the factory in central Switzerland each day. Ninety per cent are for export to over 100 different countries and serve as ambassadors for Switzerland.

Karl Elsener, the company founder, wanted to create work in sparsely industrialized central Switzerland and counter the emigration spawned by unemployment. To go from hand-crafting to industrial production was at the time adventurous and required enormous determination. Today, this family business in Schwyz provides 950 jobs.

After the soldier's knife, which every recruit receives upon entering the army, Karl Elsener developed a new, elegant and light weight pocket knife, with six practical tools. He called this new model the "Officers and Sports Knife".

After an unparalleled success story around the world, the VICTORINOX "Swiss Army Knife" is even orbiting the earth as part of the standard equipment of the Space Shuttle Crew. The knife has also been successfully proven on expeditions: in the arctic ice of the North Pole; on the highest peak on earth, Mount Everest; in the tropical rain forests of the Amazon, and elsewhere. Time and again, it has been a life saver in situations of extreme danger and great need. The New York Museum of Modern Art and the State Museum for Applied Art in Munich have selected it for their collection of excellence in design, and, since Lyndon B. Johnson, US presidents present guests with VICTORINOX pocket knives.

Today, the "Officers' Knife" is available in over 100 different models. Each knife must undergo seamless quality controls before being released for sale.

Did you know?

The largest model is the "SwissChamp" with 33 features. Over 450 steps are required in its manufacture.

Warranty

LIFETIME LIMITED WARRANTY

Victorinox guarantees all Swiss Army Knives to be of first-class steel and provides a lifetime warranty against any defects in material and workmanship.
The warranty does not apply to damage caused by abnormal or unreasonable use of any of the implements (including repairs or alterations other than by our Authorized Service Center).

This warranty gives you specific legal rights. Additional rights may be available under the laws of your State or Province. It is in place of all other warranties, including warranty of fitness for a particular purpose and warranty of merchantability and excludes any liability for incidental or consequential damages.

REPAIRS

If your Swiss Army Knife has a manufacturer's defect covered by our warranty, we will either repair or replace it, at our option, without charge. Please send to the address below. Include your name, address, phone number and e-mail address (optional) with your return. In California and other states so requiring, you may return the Swiss Army Knife through your place of purchase.

A damaged Swiss Army Knife not covered by the warranty can be repaired. Note that repair costs and handling charges may apply. If so, you will be notified prior to any service. Please send to the address below. Include your name, address, phone number and e-mail address (optional) with your return.

United States Service Center:
Victorinox Swiss Army, Inc.
Service Center
7 Victoria Drive
P.O. Box 1212
Monroe CT 06468-1212

Canada Service Center:
Victorinox-Switzerland
c/o Repair Department.
904 Magnetic Drive
North York, ON M3J 2C4

Phone: 800-442-2706 / Fax: 866-279-2406 or 203-926-2640
Monday thru Friday 9:00 a.m. - 5:00 p.m. EST